Stittsville Program
Who We Are
Our Stittsville Program, which opened in September of 2006, is a welcome addition to the range of children's services that Andrew Fleck Children's Services offers.
Our program is located at 40 Granite Ridge Dr., Ottawa, adjacent to the Stittsville Public School.
Do you have questions about program availability, hours, locations, and rates?
Connect with our Parent Navigator team by phone at 613-736-5355 ext. 206 or email them at pn@afchildrensservices.ca
---
What Do We Do
Our purposely built space, attached to the Stittsville Public School in Ottawa provides a wonderful environment for our Preschool children, ages 2.5 – 4 years of age.
Our kindergarten program is licensed for 78 spaces for children attending junior and senior kindergarten and our school age program has 110 spaces offering care to children in grade one to grade six.
With the implementation of Full Day Kindergarten at Stittsville Public School, we are now providing the extended day component to the full day. The Centre is open Monday to Friday; from 7:00 a.m. to 5:30 p.m. Our Preschool and Kindergarten programs operate for 12 months of the year. Our School Age Program operates the same as the School Board Calendar.
---
Our Team
The onsite Program Coordinator and full time teaching staff all have Early Childhood Education qualifications or a recognized equivalency, are registered with the College of ECE, and hold valid First Aid and CPR. Our staff are dedicated, professional and eager to welcome your child into our fun learning environment.
---
View our Centre
Welcome to Stittsville Program, join us on a virtual tour of our program.
---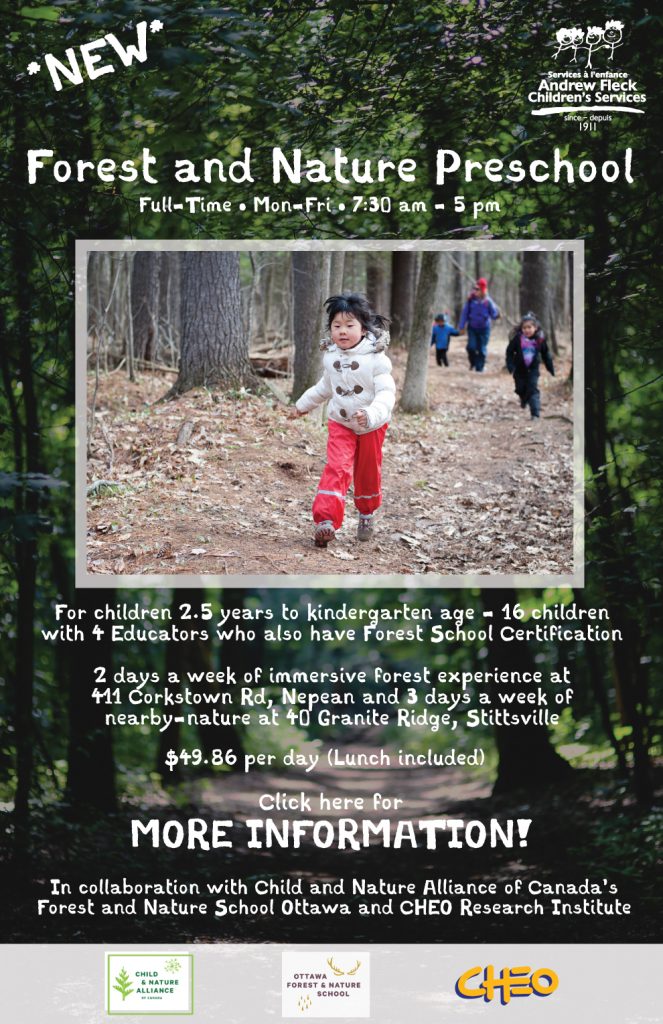 ---
Hours & Contact Information
Hours of Operation
Kindergarten & School Age Programs
7:00 am to 8:30 am and 3:15 pm to 5:30 pm (on school days)
7:00 am to 5:30 pm (on PD days, March Break and summer)
Preschool Program
7:00 am to 5:30 pm
The Stittsville Program is closed on statutory holidays.
How to Contact Us:
40 Granite Ridge Drive
Stittsville, Ontario K2S 1Y9
Tel. 613-836-0325
E-mail: stittsville@afchildrensservices.ca