Ottawa Forest and Nature School
What We Do
Our Forest and Nature School educators strive to provide children with opportunities to build an ongoing relationship with the land, with each other, and with themselves.
Ottawa Forest and Nature School programs, while sharing space on the outdoor learning continuum with other outdoor and environmental education programs, adhere to basic principles that define and distinguish them:
regular and repeated access to the land
child-centered, interest-led, inquiry-driven, educator-supported, learning and connecting through play on the land
We continue to be inspired by Indigenous history and presence on the land and acknowledge that we are walking and playing on unceded Algonquin Anishinaabeg Territory. Ottawa Forest and Nature School offers children, families and their communities inclusive, safe and supported, opportunities to learn and form connections to the land, each other, and themselves through child-centered, interest-led play in Ottawa's urban nature continuum- from forests to parks, meadows to mud-puddles.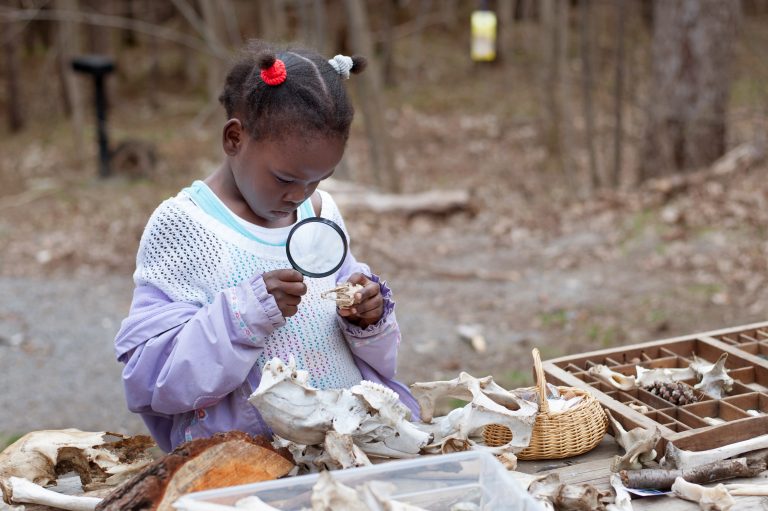 ---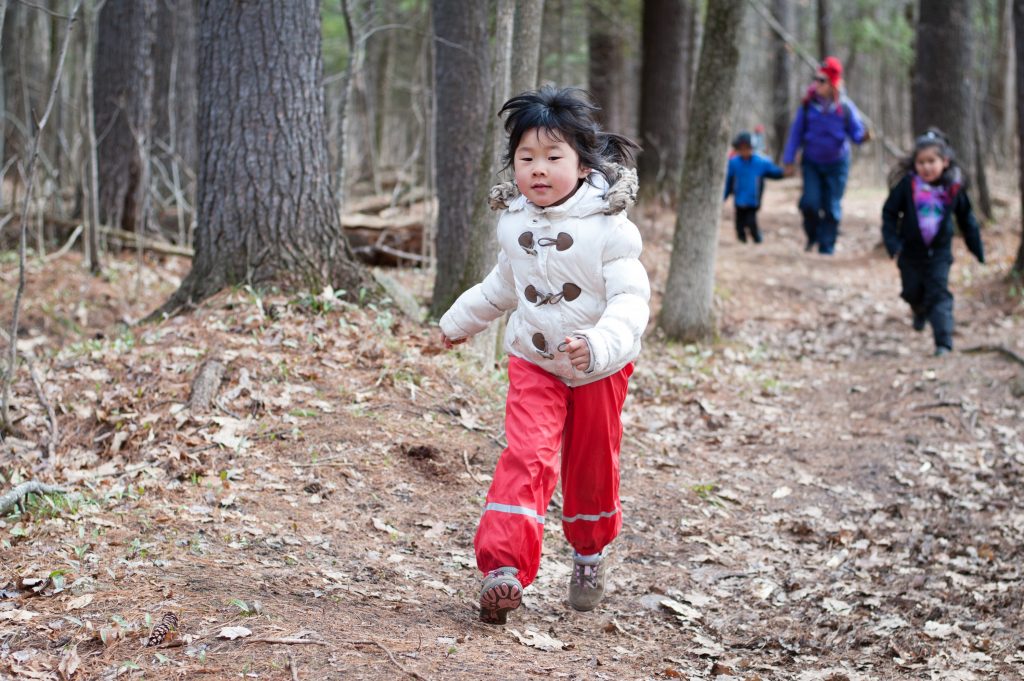 Who We Are
Ottawa Forest and Nature School offers the following programs:
Community programs
Running Fall/Winter (Sept to Dec) and Winter/Spring (Jan-June) children join us one day a week from 9am-3pm. With an 8:1 ratio for school-age children (4-12 years) and 5:1 ratio for preschoolers (2.5-4 years), each group of children with two educators gather, play and learn out on the land. Registration for Fall/Winter takes place in July, registration for Winter/Spring takes place in November.
Summer programs
Week-long summer programs run through July and August, 9am-3pm at 411 Corkstown Rd. Families are invited to register for up to two weeks of child-led play and learning in the shade of the canopy. Registration for summer programs takes place in early March.
Ottawa-Carleton District School Board partnership
This program mentors teachers and ECE's in play-based inquiry-driven learning on the land, through six weeks of programming onsite at 411 Corkstown Rd in the first year, and in Nearby Nature within walking distance of the school in the second year. Schools in their third year and beyond are offered continued support in the development of their self -directed outdoor learning and play program. Schools are selected in partnership with the school board.
Conseil des écoles catholiques du centre-est (CECCE) AFCS is excited to announce that we have partnered with the Conseil des écoles catholiques du Centre-Est (CECCE). This collaboration will allow registered children to enjoy unique outdoor play experiences once a week. Currently there are three sites to choose from when registering for this program. For more information on the Explor'A program click here.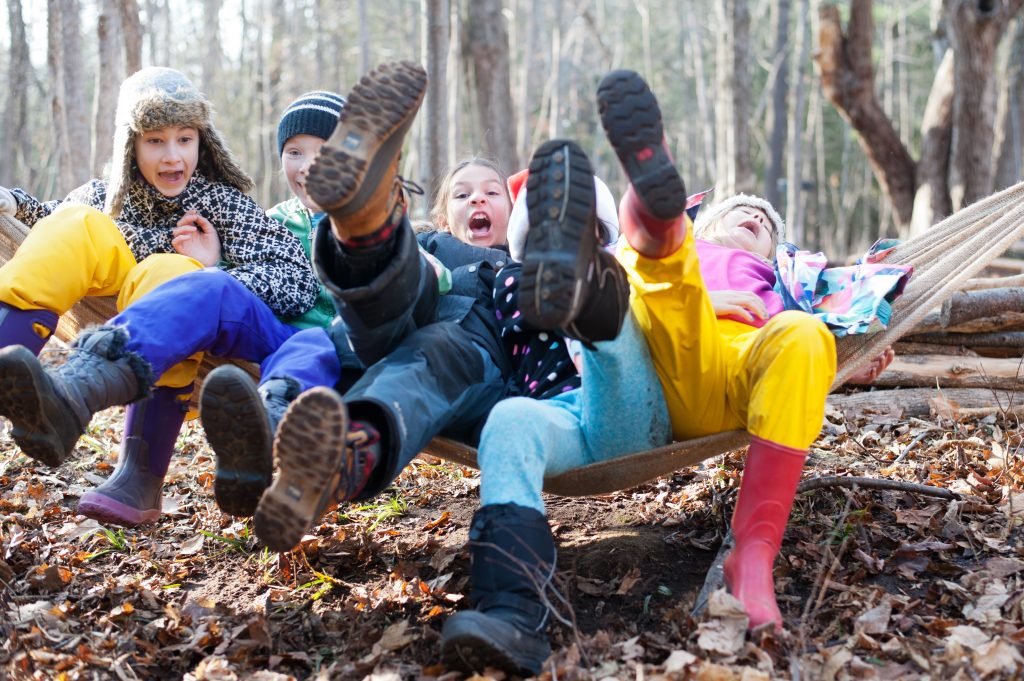 ​
Ottawa Forest and Nature School is not able to offer before or after care or transportation.
---
View Our Ottawa Forest and Nature School
---
A Day at The Ottawa Forest and Nature School
Every day at Ottawa Forest School unfolds differently based on the community present, their interests, the season, the weather, and the various loose parts found or introduced at the site. While every day is different, play, exploration, and connection to each other and the land threads through our adventures at Ottawa Forest and Nature School.
Each program values gathering to build community and support children in their friendships. We gather for story, to share ideas and vote on where in the forest we might play. Most days include a wandering out along the forest paths, or sidewalks in Nearby Nature programs, to a space that's been chosen for play. Play can look like so many things – the construction of a stick shelter, the tarp that has been tied up between trees to become a boat on seas, the meticulous design of a fairy village, the game of tag or hide and seek, the squelching through mud or the opening of an ice museum. The play is active and still, quiet and loud and sometimes very messy! Our educators know and trust that the learning is always there – sometimes asking and sometimes quietly supporting.
The educators and children are always aware of the changing weather. Thunder, lightning or extreme cold means that that we stay closer to home, moving in and out of our cabin or yurt as needed, making art, putting on a play or tinkering with tools.
As the ending of the day approaches, we gather for a closing to again check in with each other and share highlights and stories from our day, as well as gratitude for the land, her creatures, and each other.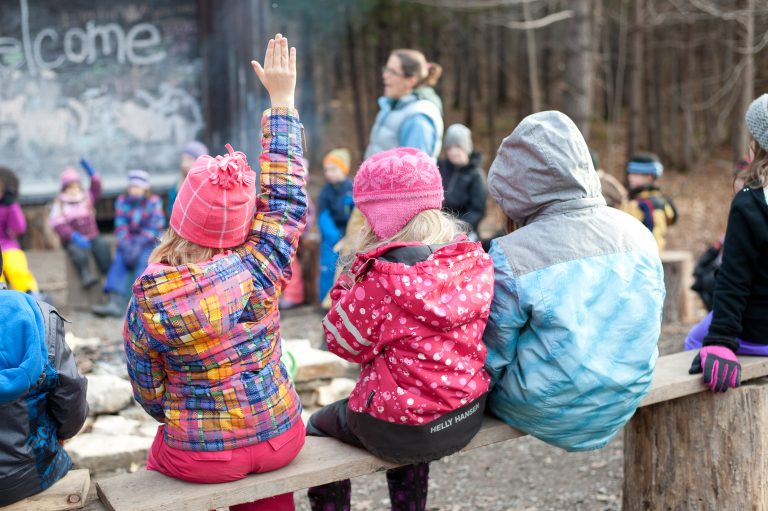 ---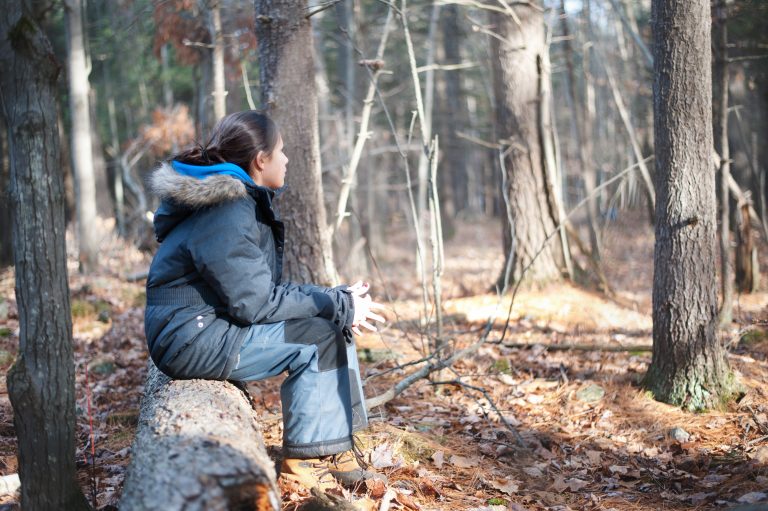 Our Team
The Ottawa Forest and Nature School began as a branch of the Child and Nature Alliance of Canada (CNAC) and transitioned to Andrew Fleck Children's Services (AFCS) in July 2019. CNAC shares an office with OFNS/AFCS and continues to operate Forest School Canada, including the Forest and Nature School Practitioners Course, Risky Play workshops and Outdoor Play First Aid.
All the OFNS teaching staff are experienced forest and nature school educators, who have participated in CNAC's professional learning opportunities. Many are Ontario College of Teachers (OCT) and some are Early Childhood Educators (ECEs). They love to tell you what they've seen with your children that day, the learning that transpired and the challenges they worked through.
To learn more about The Child and Nature Alliance of Canada, please visit their website.
---
The Lottery Approach
We are warmed by the value our communities see in connecting on the land. We know our programs fill quickly.
We have continued offering priority to currently enrolled families resulting in very limited spaces being available for open registration. Open registration is by a lottery approach.
Occasionally spaces become available in our community groups through the year. In these cases, we do contact families who applied to the lottery, as well as those who have expressed interest. If you would like to be considered, should a space be available during the year please email: ofns@afchildrensservices.ca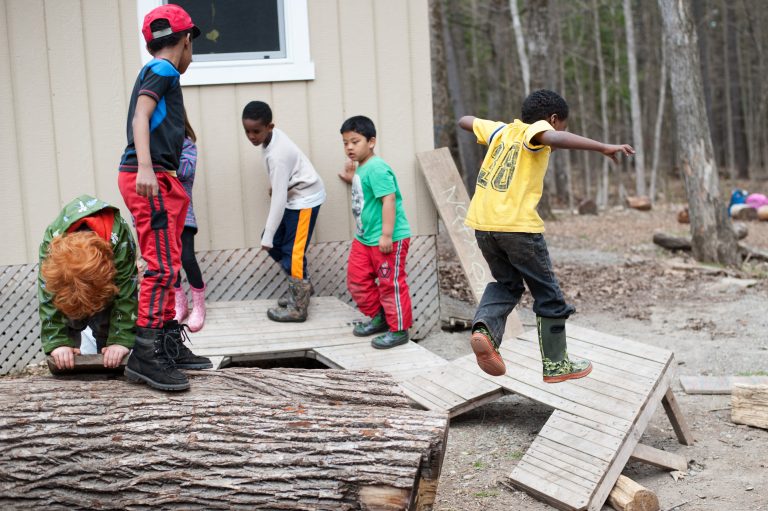 Be sure to keep an out on our Facebook page for updates.
---
Full Fee Rates
Program
Daily Rate
Total for Fall/Winter Program
Monday – Full Day
Sept 12th to Dec 19th
(excluding Monday, October 10th)
$57.86/ day
(14 days) $810.04
Tuesday – Preschool
Sept 6th to Dec 20th
$32.48/ day
(16 days) $519.68
Tuesday – Full Day
Sept 6th to Dec 20th
$57.86/ day
(16 days) $925.76
Wednesday – Preschool
Sept 7th to Dec 21st
$32.48/ day
(16 days) $519.68
Wednesday – Full Day
Sept 7th to Dec 21st
$57.86/ day
(16 days) $925.76
Thursday – Full Day
Sept 8th to Dec 22nd
$57.86/ day
(16 days) $925.76
Friday – Preschool
Sept 9th to Dec 23rd
(excluding Friday, September 30th)
$32.48/ day
(15 days) $487.20
Friday – Full Day
Sept 9th to Dec 23rd
(excluding Friday, September 30th)
$57.86/ day
(15 days) $867.90
PD Day
(October 7th and November 18th)
$57.86/ day
$57.86/ day
* We are offering a 1.5% discount off these rates for payments made by Pre-Authorized Direct
Debit payment or cheque.
---
Ottawa Forest & Nature School Opportunity Fund
At the Ottawa Forest and Nature School (OFNS), children experience the outdoors and learn through child-centred, interest-led play.
As a not-for-profit agency, we strive to offer excellent care at a reasonable cost; however, services may still be out of financial reach for some families.
The Ottawa Forest & Nature School Opportunity Fund will allow more children to attend this program and build life-long relationships with the land and each other.
---
Interested in Volunteering?
Do you want to support children as they discover the magic of the forest? We welcome volunteers to join us regularly or occasionally. We need your help to chart our paths, record our adventures, and unlock the secrets of the rocks and trees and the creatures who live among them.
Email Notification List
Sign up for our e-mail notification list to receive e-mails concerning future Ottawa Forest & Nature School opportunities. This includes notifications prior to the opening of public registration of all our programs.
---
Interested in Learning More?
---
Location
411 Corkstown Rd.,
Ottawa, Ontario K2K 2Y1