EarlyON Child and Family Centre
Ontario moved into Step 1 of its Roadmap to reopen at 12:01 am on Friday June 11, 2021. In Step 1, EarlyON Child and Family Centres are permitted to offer outdoor programming for up to 10 people. 
Indoor programming in EarlyON Centres remains prohibited at this time but staff continue to be available by email and we continue to offer virtual and outdoor programs. Check out our June virtual and outdoor programming calendars! If you have any questions, please connect with us by email at EarlyOnOttawasouth@afchildrensservices.ca
Please read our updated parent handbook here before attending any of our in-person outdoor programs.
We hope you are staying connected with us through our weekly newsletters and our Andrew Fleck Facebook page.
---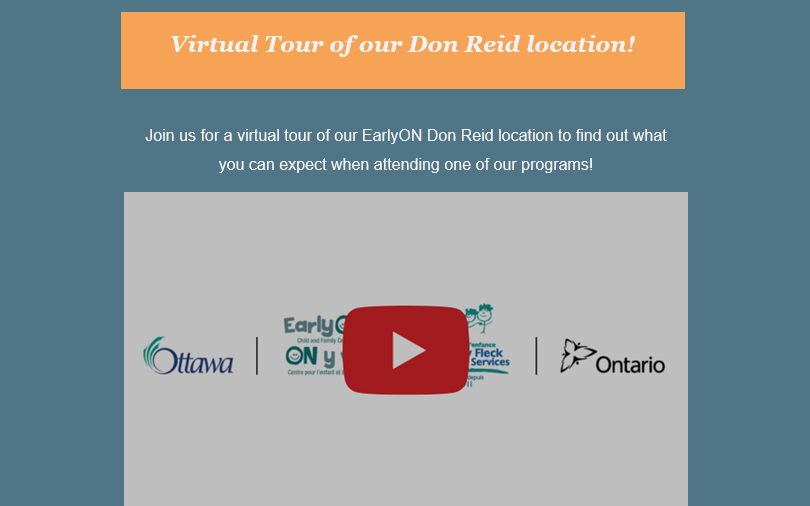 Click here for a virtual tour of our EarlyON Don Reid location to find out what you can expect when visiting one of our playgroups!
---
Who We Are
The EarlyON Child and Family Centre – Ottawa South is a place for children aged 0-6, their parents and caregivers to take part in programs and activities together. Parents and caregivers can also get information about services available to them in the community, learn about their children's development and get answers to their questions. At the EarlyON Child and Family Centre our focus is on helping families give their young children the best start in life. Services are available in English and French.
---
What We Do
You and your child can visit the EarlyON Child and Family Centre – Ottawa South for a range of free services including:
Information and Referral: Early years specialists available on-site, by phone or e-mail to answer your questions or refer you to appropriate resources.
Drop-in Playgroups: for parents, caregivers and their children where early learning activities and networking can take place.
Resource Library: Parenting books and videos, resource books and children's books available to borrow.
Toy Library : A great variety of toys for children 0 to 6 years of age available for loan free of charge.
Workshops/Programs: on parenting, early childhood development, pre & post natal services and other related topics
Volunteer Opportunities
---
Visit our EarlyON Child and Family Centre sites in Ottawa South
---
Fees
EarlyON Child and Family Centre is funded by the Ministry of Education. There are no fees for any of our services.
---
Our Team
The EarlyON Child and Family Centre – Ottawa South team includes Registered Early Years Educators, Early Years Support Workers and other support staff led by a Team Leader and supported by a Program Director.
---
Hours & Contact Information
Information and Referral Hours of Operation.
(For playgroup hours, see playgroup calendar.)
Monday to Friday 8:30 am to 4:30 pm
Wednesday evenings 5:30 pm to 8:00 pm
Saturday 8:30 am to 12:00 pm
How to Contact Us
2330 Don Reid Drive, Suite 101
Ottawa, ON K1H 1E1
Tel. 613- 737-6369
E-mail: EarlyOnOttawasouth@afchildrensservices.ca
You can also access our client handbook for more information