Here We Grow Again!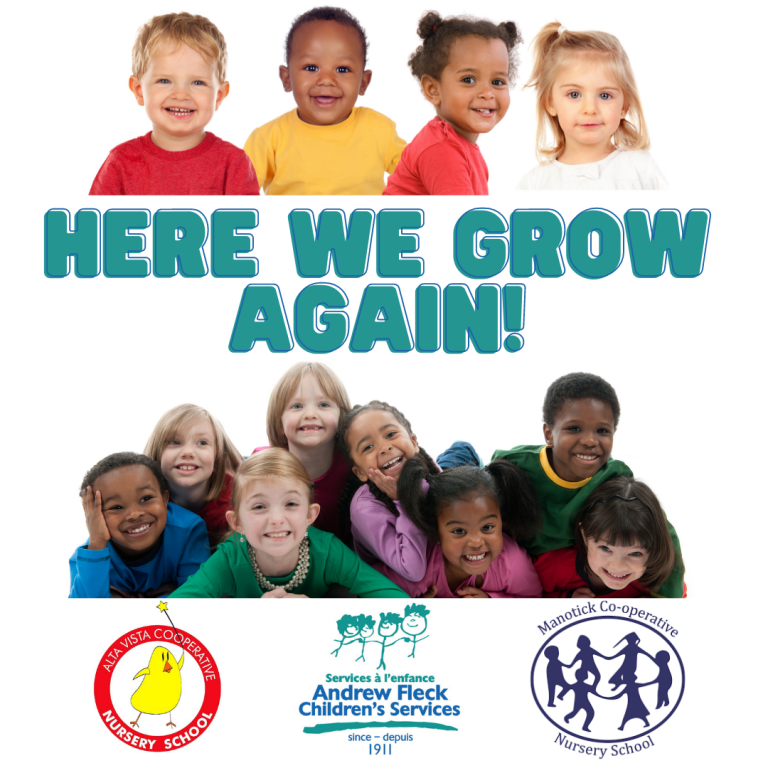 We are thrilled to share that both Alta Vista Nursery School and Manotick Nursery School are now part of Andrew Fleck Children's Services (AFCS)! Both of these Nursery Schools are well-known, they have welcomed countless children and families to their programs and will continue to be a fixture in their communities.
The Board of Andrew Fleck Children's Services (AFCS) recognizes the importance of maintaining early learning and care capacity in the not-for-profit sector and also values offering a variety of different options to support families including full-time and part-time care in both group and home child care settings, parent/caregiver programming through EarlyON and many other services.
About Alta Vista Nursery School
Alta Vista Co-operative Nursery School (AVCNS) began operating as of September of 1984, as the Rideau Park Co-operative Nursery School. In September of 1991, the school re-located to its current address at 480 Avalon Place, occupying the main floor and part of the basement at the Trinity Church of the Nazarene. Over the years their purpose has remained consistently the same: To create a special place for children where play is learning and learning is stimulating, challenging, creative and fun and we know this focus will continue.
About Manotick Nursery School
The Manotick Cooperative Nursery School was "born" January 1959 on a bitterly cold morning in the basement of Manotick Public School. Fees were set at $15/month with rent at $10/month. The first newsletter reminded parents there was a 7-day exclusion policy for polio. At that time, kindergarten classes had not been established in the local school so Manotick Co-operative Nursery School attempted to fill the needs of both pre-school and kindergarten-aged children. After extensive fundraising, Manotick Co-operative Nursery School secured its own permanent home in the Manotick Community Center (5572 Doctor Leach Drive) as of September 1995.
Today they are one of the longest running and most well-attended Nursery Schools in Ottawa and we are looking forward to another 50 years of learning and growing with the Manotick community.